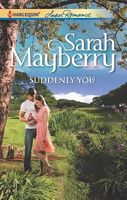 The definition of a happy man?
The guy who knows exactly what he wants and has it. That's Harry Porter. He's got the perfect job, the best buddies and no commitments beyond the next good time. It's the ideal life.
Then he stops to help Pippa White when she's stranded by the side of the road. He's known -- and liked -- her for a while, but as the ex of a friend, she's entirely off-limits. And as fun as the banter with her is, Harry knows single moms are out of his league.
So why all the excuses to see Pippa again…and again? And why can't he stop thinking about her? But most puzzling of all is how Harry suddenly wants to swap a night with the boys for one with only Pippa!
Good book. I really liked both these characters. Pippa is a single mother trying to deal with a rough road. The father of her baby walked away when she got pregnant. He has refused any kind of child support and she is struggling to make ends meet while working and going to school. When her car breaks down her ex's best friend stops to help. He is a contented guy. He has his job as a mechanic and no responsibilities. He can hang out with his friends, go out drinking and have a good time with the ladies. He gives Pippa help with her car, but then can't seem to stop helping in other ways. He knows he should stay away from her but he is drawn to her and her daughter in ways he doesn't understand. He discovers he likes helping her and enjoys being with her and the baby. He also starts changing and taking more responsibility in his life. He also finds out about his friend's avoidance of his responsibilities and is disgusted with him. Pippa knows she should stay away from him too. She sees how much he is like her ex and can't afford to fall for another guy like that. She likes having Harry around and finds that there is more to him than the care free guy she has known for so long. She starts to see the possibility of a future but doesn't trust that it will last. I really liked seeing the growth in these two characters. Pippa's revelations had already come with the birth of her daughter and the realization that she was no responsible for more than just herself. She had already put aside that care free girl and was doing what she was needed to make a better life. She does still have major trust issues that Harry will have to overcome. Harry had more growing up to do. He started out as a thirty year old kid who felt no need to be concerned with anyone except himself. As he started hanging out with Pippa I could see him as being with her and her baby became more appealing than the life he had been living. I liked the way that he tried to get her ex to step up and do the right thing and the way he tried to be there for her when she needed him. I loved seeing him fight the growing process but maturing in spite of himself. There are a couple great scenes between Harry and the ex that highlight the changes Harry is going through. I also liked the story with Harry and his father which highlights Harry's emerging maturity.