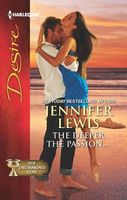 Series: Drummond Vow (Book 2)
Tropical tryst...with a twist

To find an heirloom lost for centuries, Vicki St. Cyr must enlist the help of former flame, nautical treasure hunter Jack Drummond. Working in close quarters, Vicki is in danger of taking her eyes off the prize...by bedding the only man to ever break her heart.

Six years ago, Jack Drummond ran from love. But he cannot deny the desire he still feels for Vicki. Their nights together are hot and passionate. But if Vicki recovers her heirloom, will the flames die out once more...or will Jack persevere and discover the treasure of true love?
Good book. Vicki has come to Jack to find the second piece in the missing Drummond Chalice. She needs his help to find it. She is sure that the attraction between them is still there and suspects she will end up sleeping with him. What she doesn't want to do is risk her heart again. Jack is looking forward to renewing their relationship. It had gotten very intense six years earlier and he wasn't able to handle it. Now he is sure that he can and might even want to take it further. I really enjoyed the interactions between Vicki and Jack. Because of their history they already knew a fair amount about each other, but there were enough differences to keep them both intrigued. I liked the way they worked together on the treasure hunt. They made a great team as they worked on finding the wreck and then recovering the contents. Spending as much time together as they did it was soon obvious to Vicki that she still loved Jack. Jack also discovered that his feelings were even stronger than they had been which sent him running again until he came to accept what he felt. I enjoyed the ending and am looking forward to the final book in the series.