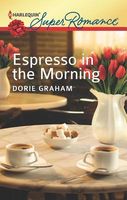 The coffee's not the only thing that's hot...
The last thing Claire Murphy wants is a man in her life. Things work best with just her and her son, Grey, a solid team of two. Yes, some days are chaotic, but she's confident Grey doesn't know why she needs that chaos-until he brings home the local cafe owner, Lucas Williams, to help. How could Grey? Having someone as good-looking as Lucas around doesn't feel right.

Or does it? It turns out there's more to Lucas than the ability to brew a great cup of coffee. And sure, she knows she's benefiting from his knowledge about recovering from trauma. But she also knows that she's falling for Lucas and she's not sure she's ready for that!
This book was okay. I liked Lucas a lot. He is a very nice guy who is strong but also caring enough to want to help people. He has people working in his cafe that are helped by having a job with him. He has noticed Claire and her son Grey when they come in every day, and recognizes that Claire is fighting something. He first gets involved with Grey who is having a hard time with his mom's frenetic lifestyle. He recognizes the symptoms of PTSD and doesn't want to lose someone else to it. As he spends time with them he comes to care for them very much, but Claire's refusal to accept that she needs help drives him nuts. Every time he tries to help her she pushes him away. I loved the fact that he stuck with her and that he was so wonderful with Grey, especially during the crises at the end. I had a much harder time with Claire. I just couldn't understand how she could go on like she was even though she could see what it was doing to her son. I got to the point where I wanted to smack her and tell her to do something for God's sake. I really didn't like her mother and sister at all. She had tried to tell her mom what happened and was blown off. If her mom had been supportive Claire might not have suffered the way she did.