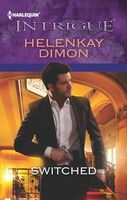 For Aaron McBain, it was just another routine job, protecting his client at an office Christmas party. Until commandos stormed the place and took a hostage. But they had the wrong woman…the very woman Aaron had started dating -- under a different cover.
Risa Peters couldn't convince the gunmen she was the wrong hostage, nor could she believe her so-called "tax attorney" boyfriend wrested her away. But as the threats against her escalated, Risa and Aaron found themselves trapped in the building in the midst of a deadly conspiracy. And only her sexy new protector -- a man she hardly knew but already wanted -- stood between her and a bullet.
Very good book. I really liked both Aaron and Risa. Aaron had started dating Risa after seeing her in a coffee shop. Because of a previous relationship that failed because of his job, he told Risa he was a tax attorney instead of a security company owner. When she appeared at an office Christmas party he was working and was attacked he had to blow his cover and help her. I really enjoyed seeing him try to keep Risa safe as she tried to be a part of what was happening. It was obvious how much he cared but that his previous failed relationship was keeping him from taking that final step. The way that Risa called him on his actions was great. I loved the way his coworker kept hammering at him until he saw the truth. His appearance at the end was very well done. Risa was still recovering from a relationship that had hurt her on many levels. When she found out that Aaron had lied to her about who he really was she was not happy. But she decided to reserve judgement until after their current situation was resolved. I really enjoyed seeing the way that she didn't fall apart when people started trying to kidnap her. She kept a pretty level head when Aaron showed up to rescue her and then as they tried to escape. I really loved the way that she was able to participate in the events, not just be the protected bystander. Risa's anger at the deception disappeared quickly and her attraction for him grew as she saw more of the real Aaron. Risa knew shortly that she had fallen in love with Aaron, but also saw that he wasn't able to fully commit to a relationship, that he was keeping his emotions locked up. It hurt her to do so, but she walked away telling him that she could be with someone who couldn't do true intimacy. She was sure she would never see him again. The ending where he came for her was just what she needed from him. The suspense in the book was very well done also and kept me reading until I finished it way past my bedtime. I had a feeling I knew who the bad guy was, but the reasoning behind it was a surprise.