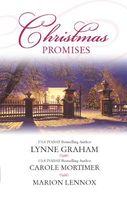 The Christmas Eve Bride by Lynne Graham
Rocco thought he was done with Amber after her betrayal two years earlier. But when he unexpectedly runs into her, the attraction is still strong - so he asks her to become his mistress! Amber only accepts so her baby boy can have a better Christmas. But Rocco's plan for revenge changes as he begins picturing a future with Amber - and their son.

Originally published in Christmas With a Latin Lover. Okay story. I liked Amber. She was doing her best to get on with her life after being dumped by Rocco then having his baby. When she runs into him again, he is out for revenge and wants her to be his mistress. But she has a surprise for him when she moves in, and he is stunned. I never really warmed up to Rocco. Yes, he took to being a father very well, but I never really got the feeling that he accepted his part in their breakup. He finally admitted his love, but I didn't see much improvement in his attitudes.
A Marriage Proposal for Christmas by Carole Mortimer
Cally Turner thinks Noel Carlton is an egotistical playboy! The only reason she's agreed to work for him is so she can give her daughter a Christmas to remember. But as she spends more time with Noel, she begins to wonder what's more irritating - his infuriating arrogance or unexpected tenderness?
Originally published in Mistress to a Millionaire. I liked this story better. Noel started out pretty obnoxious, with his demands and his flirtatious attitude. But as he and Cally worked together to get his house ready for the holidays and his family's visit, the better side of him became more apparent. He had a good sense of humor and an innate kindness that showed in the way he treated Cally's daughter. Cally didn't trust him at first because of her daughter's father, but he soon overcame those issues. I liked the way Noel turned out to be pretty much of a sweetheart.
A Bride for Christmas by Marion Lennox
Wealthy businessman - and contented bachelor - Guy Carver is in Australia to take ownership of Jenny Westmere's wedding salon. It's strictly business. So no one is more surprised than Guy himself when he realizes that the deal he really wants to ink is making Jenny and her little boy his family by Christmas!
Originally published in Christmas Proposals. This was my favorite of the three stories. Guy started out as cold and aloof and really looking down on Jenny and her salon. Though he had started his wedding and event planning business from scratch, in recent years he had become removed from the personal touch. I loved the way that Jenny called him on his snottiness and then made him work to get her to help him. She was a warm and caring woman who knew what she felt was most important in her life. Guy found that being around Jenny and her family started to wear away at the walls he had around his heart. He fought his developing feelings for her, and nearly lost it all when he tried to make her part of his life without thinking about her needs. I loved the weddings that the two of them planned. The humor in both made the story.