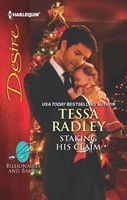 Series: Billionaires and Babies
A sister's betrayal.
When her flaky sister abruptly backs out of their surrogacy agreement, Ella McLeod is left with a newborn she's in no position to care for. She'll have to give the baby up for adoption. Enter Yevgeny Volkovoy-her sister's bossy billionaire brother-in-law.
Yevgeny won't let a Volkovoy be raised by strangers; he wants custody now. How can Ella be so cold as to deny him? Even worse-why does this woman warm his steely heart? He may be staking his claim on the baby, but Ella may stake a counterclaim on his bachelorhood.
Good book. I liked both Ella and Yevgeny, though Ella was a little hard to warm up to at first. She had agreed to be the surrogate for her sister who couldn't have kids. But when her sister changed her mind, Ella was left holding the baby. She'd had no intention of ever having children and felt completely unable to care for a baby. So she decided to give the baby up for adoption. When Yevgeny showed up he stated his intention of raising the baby, she was surprised - and not happy about it. She considered him a bad bet for a parent because of his workaholic ways and lack of a wife. She didn't expect to see him fall in love with the baby and be willing to make major changes in his life because of it. As they spent time together taking care of the baby, she began to see that there was more to him than she thought. She still seemed to be intent on giving the baby up, though that thought was getting harder to accept. She had tried to stay emotionally distant, but the baby managed to find her way into Ella's heart - as did Yevgeny. He had come running as soon as he heard about the plans for the baby. He had no desire to let his niece be raised by strangers. He also couldn't understand how Ella could be so coldly distant around the baby. All he wanted was to be able to take his niece home with him and Ella kept throwing up roadblocks. When he was able to spend time with her and the baby he saw a different side of her start to come out. I loved the way that the two of them had of dealing with each other. The ending was terrific with a surprise twist.