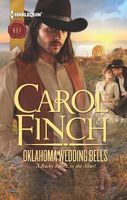 Independent Josephine Malloy is determined to stake her own claim during the latest Oklahoma land run. But to fend off the countless suitors seeking a wife and homestead she needs a fake fiancé for cover. Enter horse trader Solomon Tremain…

As an undercover Deputy U.S. Marshal investigating land fraud, Sol should probably keep his distance from this firebrand. But when Josie gets in trouble with the law it's Sol to the rescue -- although he'll need to make their marriage for real. If only she'll stay out of hot water long enough to say "I do"!
Good book. I liked both Josie and Sol. Josie had the independence and determination to go after what she wanted. She also seemed to be something of a magnet for trouble. I enjoyed seeing the way her mind worked and the lengths she went to to reach her goals. She is rather cynical about men and this causes some trust issues between her and Sol. Meanwhile, Sol has his own trust issues with Josie, but he can't stay away from her. He also can't tell her who he really is, which causes its own set of problems. I loved the interactions between these two as they tried to protect themselves, but were unable to resist their feelings. There were some really fun parts, as well as some moving parts when Josie began to realize what opening the lands to the settlers meant to the Native Americans. I liked the way that Sol's mission was intertwined with Josie. I loved the way that she was able to help rescue herself, and how it all made she and Sol realize what was important.