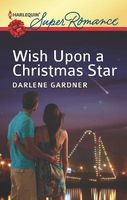 The odds are about a million to one. But after eleven years, P.I. Maria DiMarco jumps at the possibility that her brother might still be alive. And when she makes a wish on a rare pre-Christmas shooting star, well, it could be a sign. Logan Collier doesn't think so. Not that Maria should put her trust -- or hope -- in her ex-love, who long ago left her heart in pieces.

Yet here Logan is in Key West, helping Maria chase down leads and, like her, trying -- and failing -- to ignore the attraction heating up between them. Even if her search takes her nowhere, Maria isn't giving up. Not on finding her brother…or on a second chance with Logan.
Good book. I liked both Maria and Logan. Maria has never given up hope that her brother is still alive, so she heads to Key West to follow up on a lead. As a PI she never gives up until she has checked out every possibility. Logan is far more pragmatic, but follows her there to help even though they were over long ago. Both of them are trying to ignore the attraction that still affects them both. Maria follows lead after lead, always hoping they will bring the result she wants. Whenever she is disappointed Logan is there for her. Logan is very sure that Mike is dead, but hates to see Maria hurt each time. He doesn't want to get involved with her again as he still remembers his feelings after their breakup, but he can't stop wanting to be there for her. Both of them were hurt by their breakup, but each blamed the other one for it. Neither seemed to be able to see that it was a lack of being willing to compromise on both their parts - most likely because they were so young at the time. I liked the way that they were able to work together even though they had differing viewpoints. The conclusion was terrific. I also enjoyed the secondary story with Kayla, the rookie PI that Maria was helping. She had some good instincts and the motivation and enthusiasm that she needed. I liked the way she solved her case and dealt with the perpetrator.