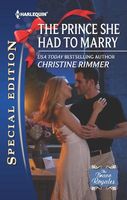 Series: Bravo Royales (Book 2)
FOR HONOR. AND FOR LOVE?
Cold, distant Alexander Bravo-Callabretti was the "last" man Liliana of Alagonia had ever imagined marrying After all, even a princess longs for happily-ever-after. But when a one-night fling with her nemesis led to a royal baby-on-the-way, only a wedding would satisfy their disapproving families. So with a fast, secret ceremony, they were joined for life.
Alex had agreed to make an effort for the sake of the baby, even though letting the lovely Lili close was a threat to the barriers he'd long struggled to maintain. But the future of the throne-and his royal honor-was at stake. And when he and Lili posed as happy newlyweds for the paparazzi, he found himself wishing that their marriage could be for real after all....
Very good book and very emotional. Alex and Lili had been adversaries since they were children. Then one night their sparks took a different path and now Lili is pregnant. Because of their positions they have no choice but to marry. They have to learn to live with each other and make it look good. But Alex is emotionally closed off and does everything he can to avoid being around Lili, while she would really like to have a good marriage. When Alex's parents insist on them taking a public honeymoon and making it look like they are happy, he knows he has no choice. I really liked both Lili and Alex. My heart ached for Alex. He has always felt apart from his family, like he doesn't quite fit in. Then he was kidnapped in Afghanistan and spent four years in captivity, losing his best friend who was there with him. He was drowning in guilty feelings because his friend wouldn't have been there except for him. When he returned home he avoided being around people whenever he could, spending time training the palace security forces. His night with Lili was something unexpected and unwelcome because being with her made him start to feel again. So he avoided and ignored her until confronted with her pregnancy. Even after the wedding he tried to avoid her until they were forced on their trip. When they snuck away one night and then were stranded on an island, Alex found himself letting go of his unhappiness. I loved seeing him start to come back to life and enjoy being with Lili. He also finally talked to her about his experiences and found that it helped him. He still didn't feel that he could be the husband that she needed until he dealt with the last of his past. His refusal to accept her help nearly cost him everything and he had to work to win her back. Lili was quite a strong character. She appeared to be naive and shallow, but she had an inner core of strength that she needed when dealing with Alex. She didn't want to marry him at first because she really wanted to marry for love. When she realized she had no choice, she went to Alex and got him to agree to try to make their marriage work, not knowing he was lying to her to make sure she would go through with it. I loved the way that she kept trying to get through to him, even on their trip. When they made their escape and then got stranded, I loved the way that she made the best of everything. She also did a fantastic job of keeping after Alex and eventually got him to open up. When they returned home and he left her to deal with his past, she was hurt and angry. She finally decided she was done being the one making all the effort and left him to come after her. I loved seeing what he did and how he got her to see him. It was great to see Alex finally overcome the darkness that had been a part of him for so long.