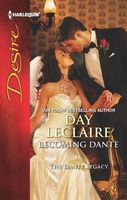 Series: Dante Legacy (Book 9)
A secret Dante
All his life, Gabe Moretti has denied his Dante heritage-but when he meets Kat Malloy, his late wife's cousin, the Dante Inferno cannot be ignored. He tells himself it's only business-her hand in exchange for a necklace his mother created. But when one touch leads to another-and a kiss leads to more-Gabe realizes he's in over his head. Because Kat has secrets he needs to uncover. And now he'll have to do the one thing he's sworn never to do-go to his Dante relatives to find out the truth about this powerful passion....
Good book. Gabe is the illegitimate son of a Dante, but wants nothing to do with them after being ignored his whole life. When Gabe and Kat meet, their first touch ignites the Dante Inferno. Gabe heard about it from his mother but ignored it as nothing but a fairy tale. He is stunned and very unhappy to feel this overwhelming passion for a woman he feels betrayed his late wife. He goes to the Dante patriarch to find out the truth about the Inferno. I loved Gabe's interactions with the Dantes once he finally meets with them.
Over the next few weeks his feelings grow for Kat and things come out that cast doubt on the betrayal.

Kat has been paying for her actions for five years. Now she wants to come home and reconcile with her grandmother, but she needs Gabe's help for that. She doesn't like the passion she feels for Gabe, but after awhile of trying to fight it she decides to give in and enjoy it while she can. She also doesn't expect that passion to turn to love. When information comes out about the events of five years earlier she has to decide whether to trust Gabe with her heart. This is Day LeClaire's last book for Harlequin Desire, so I don't know if Gabe's sister will get a story or not. I hope she does!