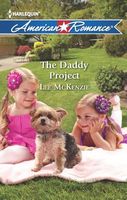 Her Problem
As a busy single mom to her teenage daughter, Kristi Callahan doesn't have time for a man. But it sure would be nice if her mother believed that, too. She keeps setting Kristi up on disastrous blind dates, determined to find her "the one."
His Problem
After Nate McTavish's wife died, he was faced with raising his twin little girls alone. Making it up as he goes along and sometimes questioning his daddy skills, he also has to fend off women his well-meaning family keep throwing at him.
Their Solution
When Nate hires Kristi to stage his house before selling it, they instantly realize they've found the perfect answer to their problem: be fake dates for each other! It's a great plan-until they start to wonder if the real thing might not be even better....
Very good book. Kristi and Nate are both single parents. They also suffer from family members who are always trying to fix them up with dates. When Kristi is hired by Nate to get his house ready to sell they decide to help each other out by pretending to date. They quickly discover that they enjoy spending time together and that there is an undeniable attraction between them. I really liked Nate and Kristi. Nate is raising his twin girls after the death of their mother. He's not perfect at it - he has trouble keeping up with the housework and meals can be a challenge. But there is plenty of love to go around and that makes up for a lot. When Nate hires Kristi to ready his house for sale, he doesn't expect to feel an immediate connection to her. The more time he spends with her the more he wants their fake dates to be real. I loved seeing how good he was with his little girls and how hard he tried to be a good father. I liked the way he had no problem asking Kristi for help. Kristi was a great mom. She has an excellent relationship with her daughter and has worked very hard to be a good example for her - perhaps a little too hard. She doesn't really date because she doesn't want to take a chance on another loser. Unfortunately she has to deal with her famiily members trying to set her up, so she is quite willing to enter into the fake dating relationship with Nate. She doesn't expect to find herself wishing that the relationship was real. I really loved seeing the way that she was able to help Nate deal with some of the issues he had with family and home. I also enjoyed seeing how invested she got in making Nate's house so much better. I also liked seeing how terrific her daughter was and how she was the one who made Kristi see that a real relationship with Nate was possible.