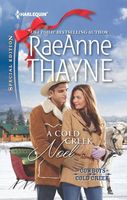 Series: Cowboys of Cold Creek (Book 10)
A SEASON FOR LOVE...
Caidy Bowman had been the apple of her family's eye-until a devastating tragedy forced her to hide from the world. She was used to devoting her time to the animals on her family's ranch. Then widower Ben Caldwell and his two adorable children arrived in Pine Gulch, and suddenly, Caidy wanted more than a life in the shadows....
As the town's new vet, Ben needed a place to stay for the holidays-and for his family to heal from their own loss. He absolutely wasn't looking for love again! But Caidy Bowman's sparkling green eyes and sweet smile touched Ben's broken heart, giving him hope for a new future. Their future-if he could convince the beautiful cowgirl that Christmas was a time for new beginnings....
Good book. Ben had come to Pine Gulch to help his family recover from the loss of his wife and to get his children away from the bad influences of his in-laws. He wanted to concentrate on his children. He did not expect to be attracted to Caidy and didn't want it at this time. I liked the way he was so kind and caring with the animals, though his attitude toward Caidy the first time they met didn't show it. I also liked the fact that he did apologize to her for the way he had acted. Coming from the city, Ben was not used to the openness and friendliness of the small town atmosphere. Besides his immediate attraction to her, the way the Caidy took care of him and his kids went a long way toward making Ben think there was a future for them together. Caidy had basically been hiding out on the ranch since her parents' murders eleven years earlier. She was carrying a lot of guilt since she felt it was her fault they had been at home that night. At first she didn't like Ben at all, but the more she got to know him the more she liked him. She fought the attraction, but it was a losing battle. I liked the way that she was able to overcome her dislike of the Christmas season to help make the holiday better for Ben and his kids. The way that she was able to open up to Ben about her parents also showed that she felt more for him than she thought she did. I loved the closeness of the Bowman family and the way that there is always room for more to be included.