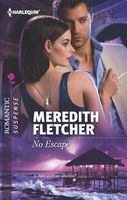 "The hunt is on."
Hot on the trail of a killer, detective Heath Sawyer was determined to capture his man. His own partner had been murdered by the mysterious White Rabbit killer and now another victim has been found in Jamaica. Her sister, beautiful Lauren Cooper, insists on getting involved with the case. But this amateur is one distraction he can't afford.
Lauren isn't going to let her sister die unavenged. She'll use any trick she can to help track the elusive White Rabbit. If that means becoming bait, she will. And if it means working with the sexy detective, all the better....
Good book. Lauren has gone to Jamaica to find out what is being done to find her sister's killer. There she meets Heath, who is there investigating a serial killer. He is convinced that Megan was killed by the same man. Lauren wants in on the investigation but Heath tells her it's too dangerous and to go home. After her sister's funeral Lauren returns to Jamaica to continue her search. After she helps Heath they begin to work together. The suspense is good, even though we start out knowing who the bad guy is. Watching Heath and Lauren work together as their attraction grows kept me turning the pages. I liked both Heath and Lauren. Heath's biggest issue is his obsession in catching the bad guy. He tends to have a bit of tunnel vision and got himself into a couple tight spots where Lauren is the one to rescue him. I liked the fact that he did finally accept her help. His protectiveness towards her caused a few times of tension, but also helped him realize his feelings for her. Lauren was a fascinating character. She turned out to be an excellent magician, which was very helpful in catching the bad guy. I liked her persistence and also the way she was able to think on her feet. Her performance at the haunted house was great. I also loved the ending with her special performance of magic.