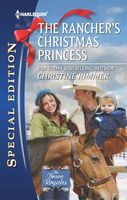 Series: Bravo Royales (Book 3)
A CHRISTMAS PRESENT. FROM THE PAST.
Arabella Bravo-Calabretti came to Elk Creek, Montana, with a secret to deliver and a job to do. Being a Bravo Royale, she was going to do it right. Before she handed her best friend's darling son, Ben, over to his unwitting father, they would all spend Christmas together. Only then could she be absolutely sure that rancher Preston McCade was ready to be a dad.
Or...was that really the reason Belle was hanging around? She and Preston were practically from different planets, yet the attraction was undeniable. Before long, someone was utterly in love with a rancher-and Christmas in Montana was presenting one surprise after another.
Very good book. Belle has come to Montana to bring Ben to his father who had no idea that he had a son. Belle planned to stay around until she was sure that Preston could handle it and then go home. I really liked both Preston and Belle. Preston was stunned to find out that he was a father. At first he was angry that he hadn't been told, but immediately accepted that Ben was his son. He did not expect to be so attracted to Belle. When Belle and her group moved to the ranch so that he could get to know Ben, he also had the chance to get to know her. Belle rapidly became an important part of his life, but Preston felt it could go nowhere because their lives were so different. Belle was attracted to him also. The more time she spent with him, the more she wanted to be with him.
It didn't take long for her to realize that she was in love with him.

She knew he had problems with their differences but she wasn't afraid to go after what she wanted. She also knew that she would have a hard time convincing him that a life together was possible. I really liked seeing them together as she showed Preston how to care for Ben. There were some wonderfully heartwarming scenes with Ben and Preston. I also liked the way that Preston was so sensitive to Belle's feelings of loss over the death of her friend, Ben's mother. There was a great secondary romance involving Preston's father and hints of the people involved in the next book in the series. I can't wait!