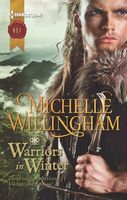 Series: MacEgan (Book 7)
In The Bleak Midwinter
It's a year since Brianna MacEgan's husband was killed, and she remains coldly obsessed with avenging his death. But Arturo de Manzano is intent on distracting her with his muscled fighter's body -- and the ice around her heart is soon in danger of melting….
Brianna has been unable to move past her grief over her husband's death and is planning to avenge him. When Arturo, who is part of the group escorting his sister and Liam home, arrives he is immediately drawn to her. Having lost his wife he understands her pain and wants to help her through it. Brianna has a tremendous amount of guilt to overcome as she falls for him. Arturo is wonderfully patient as he tries to show Brianna the happiness that could be hers.
The Holly and the Viking
Lost in a snowstorm, Rhiannon MacEgan is rescued by a fierce Viking. Her lonely soul instantly finds its mate in Kaall, but can they ever be together? For not only is Kaall blind, he's also her beloved cousin's most hated enemy….
Rhiannon really wants to find a love of her own, but her father is extremely overprotective. When she gets lost in a snowstorm she is rescued by Kaall. She is immediately attracted to him, but there are obstacles to her happiness - he is blind and is also the warrior responsible for Brianna's husband's death. For all of his blindness he has an inner strength that is just what Rhiannon needs. And Rhiannon is able to see the caring man under the surface of the warrior and is able to help him cope with his blindness.
A Season to Forgive

Adriana de Manzano is betrothed to Liam MacEgan, a man she absolutely adores. But she's hiding a terrible secret. To save Liam's life in the Holy Land she was forced to betray him. If she tells this proud warrior the truth, can he ever forgive her?
Adrianna and Liam are very much in love. Since leaving the Holy Land to return to Ireland Liam has sensed that there is something bothering her. She has terrible nightmares and he sees pain in her eyes whenever he touches her. Liam is also feeling guilt over the loss of his men in battle and doubts that he can take his father's place as king when the time comes. When the secret comes out Liam has to decide if he can understand and forgive. I loved the help that Adrianna got from the other wives in this one as they showed her how to deal with a MacEgan man.
All three stories were closely related. They took place during the same period with overlapping events. I enjoyed the glimpses of their holiday traditions and their way of life. I also liked the strength of the women who could hold their own without losing their identities as women. The men are the perfect blending of strong and sensitive.