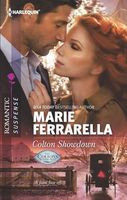 Series: Coltons of Eden Falls (Book 4)
"You're safe from those monsters now."
It's supposed to be the final confrontation. Philly detective Tate Colton will go under cover to bust the sex trafficking ring targeting young Amish women. He doesn't count on his sting operation falling apart-or being forced to escape with the breathtaking key witness he's sworn to protect.
Hiding in New York City with a handsome detective? Amish seamstress Hannah Troyer's more than a little out of her element. The big city-and men like Tate-are part of a world that's nothing like what she's used to. As danger inches closer, he's her only route to safety...and a forbidden attraction she dares to indulge in.
Very good book and conclusion to the series. Tate is determined to bring down the sex trafficking ring and rescue Hannah Troyer and the other girls. When his cover is blown, he and Hannah go on the run until the mastermind can be captured. Tate is drawn to Hannah in a way he's never been to anyone before. There is something about her that speaks to his heart. I loved the way that Tate protected her. I also enjoyed seeing his delight when he took her shopping, when they saw the decorated store windows, and the Rockefeller Center tree. Tate fought the attraction because Hannah is not from his world and he fully expects her to return to hers. I loved the ending when he just couldn't let her go. We didn't see much of Hannah in the first three books, but I did get the impression that she didn't behave like the typical Amish girl. When Tate first sees her he can tell that she hasn't had her spirit broken. I really liked the way that she was able to follow along with what Tate needed when they went on the run. I enjoyed seeing her as she was exposed to things outside her community. Hannah felt amazed at everything that was out there, but even more amazed at her growing feelings for Tate. I loved her confidence in Tate, that he would be able to keep her safe. The hospital scene at the end was great. I loved the epilogue also.