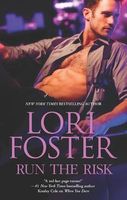 Series: Love Undercover (Book 1)
Nothing can shake a cop from pursuing justice-except a beautiful witness marked for death...
When Detective Logan Riske goes undercover to find Pepper Yates, a potential link to his best friend's unsolved murder, he vows to gain her cooperation by any means necessary. But the elusive beauty is more suspicious-and in far more danger-than he expected. And the last thing Logan needs is to start caring for her....
Pepper has spent years dodging the corrupt club owner who will stop at nothing to keep her silenced. She can trust no one, not even the handsome new "construction worker" who's moved in next door. The heat between them is undeniable. But will surrendering to passion bring her the safety she so desires-or will her feelings for Logan draw them both into a killer's crosshairs?
Good book. It started out a bit slow for me, as the previous series books seemed to jump right into the action. Pepper is hiding out as manager of an apartment building, trying to stay safe from the man who wants her dead. She has disguised her looks and mannerisms and is pretty darn dull. When Logan moves in and starts trying to hit on her, she is really confused but definitely attracted. Logan is undercover trying to get close to her so that he can catch her brother. He is determined to do whatever it takes. He doesn't expect to be intrigued, attracted and just plain liking Pepper. His single minded focus at the beginning makes him seem pretty obnoxious. The initial interactions between the two are pretty strange, with Pepper wanting him but needed to maintain her disguise. When the action heats up and Pepper and Logan are no longer in disguise their relationship gets more intense. Pepper is furious at Logan's deception and feels used and betrayed. She also still wants him. I really enjoyed some of the things she put him through as they were working out their new relationship. She also has to decide who she can trust to keep her and her brother safe. Logan starts to feel really bad about his deception as he gets to know Pepper better, but he has to do what is necessary to bag her brother. I found the interactions between Logan and her brother very interesting. They also threw some interesting twists into the story. When the disguises are done with Logan has to try to find a way back into Pepper's good graces as she has come to mean far more to him that he ever expected. I liked the fact that while he is very alpha and protective, he also is able to acknowledge his feelings and the fact that Pepper really confuses him. The final showdown was excellent with a couple surprises thrown in. I enjoyed the mystery, continuing with the theme of drugs and human trafficking from the Edge of Honor series. There was also the problem of police corruption causing doubt over who could and could not be trusted. I also enjoyed the set up for the next book starring Logan's friend and coworker Reese and his neighbor Alice, and Rowdy with maybe the redhead. I'm not sure who Dash will end up with but I'm sure he'll be in there too.