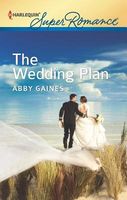 Merry Wyatt would do almost anything to fulfill her father's dying wish. But marrying Lucas Calder is not an option. Sure, they have occasionally pretended to be in a relationship when it was convenient, but a real marriage? That's definitely out of the question.
However, a fake marriage might work. Lucas may not be too keen, but Merry knows he won't let her down.
When her father makes an unexpected recovery, Merry's simple plan goes into a tailspin. And family expectations aren't the only problem. A spark has ignited and playing house with Lucas is becoming a little too real.
Good book. Merry and Lucas had been friends all their lives, sometimes pretending to be in a relationship to help each other out. When Merry's father wants her married before he dies, she goes to Lucas for help. He isn't thrilled with the idea, but does it anyway thinking it won't be for long. When her dad recovers and they need to stay married things get complicated it a hurry. I liked both Lucas and Merry though I often wanted to shake Lucas. He's a Navy pilot recovering from injuries and waiting to get back to active duty. He doesn't believe in the fairy tale of love, seeing all that emotion as a useless muddle clouding peoples' thinking. As he and Merry spend more time together there is an unwelcome attraction between them. When they give in to that attraction one time the results aren't very good which reinforces their feelings that they are better off as friends. When it results in a pregnancy, Lucas insists that they stay married but shows no inclination of developing feelings. He is all about responsibility and avoids any kind of intimacy. Merry starts out just wanting a fake marriage for the short time her dad has left. When he recovers and they need to stay married, she finds herself caring more and more for Lucas. Even when she finds out that she's pregnant she has no intention of keeping him tied to a loveless marriage. She wants the kind of fairy tale marriage that her father described and doesn't see that happening with Lucas. Even when she admits her love to him, she realizes that he just doesn't get what she needs. I enjoyed seeing the way she got him to understand his overdone feelings of responsibility and the way he finally understood what his true feelings for her were. I also liked the side story of Merry's dad and the nurse and the way that their feelings developed. He too needed a smack upside the head.