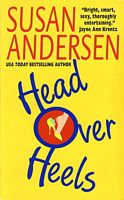 Series: Marine (Book 1)
Who said "you can't go home again"? In Veronica Davis's case, who'd want to -- especially when you hail from Fossil, Washington? But now she's back among the good-ol' boys who think she's fair game just because she's in a waitress uniform.

The truth is, Veronica's the boss -- at least until she can sell the family saloon and skip town again as fast as her feet can carry her-and nobody knows that better than Cooper Blackstock. From behind the bar, the ex-Special Forces Marine sees all. And his undercover agenda has made the feisty boss-lady's troubles his own.

And her troubles are considerable, what with a family in turmoil, a pseudo-bartender with dangerous secrets, a murder investigation, and death threats. Though the town surprisingly rallies in support, it's still a good thing that Cooper will be there to catch Veronica if she stumbles -- if he doesn't start falling himself.
Good book. I liked both Veronica and Cooper. Veronica has come back after her sister's murder to take care of her niece and take her back to Seattle with her. First she has to sell the bar and house. When she arrives, she meets Cooper who is working as the bartender. There is an immediate attraction between them, but there are other issues that are keeping them apart. Veronica left Fossil, swearing never to return and put up with the misery of working in the bar. But she has to fill in when a waitress quits and deal with the less than pleasant memories it brings back. She also gives in to her attraction to Cooper, knowing that nothing can come of it. She refuses to follow in her mother's footsteps and fall for a man with no apparent ambition. Cooper is working at the bar while he tries to figure out who really killed Veronica's sister. The man accused is Cooper's half brother and he knows that Eddie couldn't have done it. He hasn't told anyone who he is and wants to keep it that way. He doesn't expect the intense attraction to Veronica, or the way she makes him feel. He's had to rethink his attitude toward her. Even when they confess their love to each other, their baggage from the past continues to create problems for them. The solving of the mystery works well and makes Cooper and Veronica realize that love overcomes those other issues.