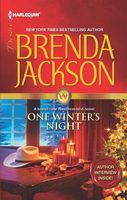 Series: Westmorelands (Book 24)
Riley Westmoreland never mixes business with pleasure-until he meets his company's gorgeous new party planner. But when he gets Alpha Blake into bed, he realizes one night will never be enough. That's when her past threatens to end their affair. So Riley does what any Westmoreland male would do...he vows to win her heart-for good.
Very good book. Both Riley and Alpha are people who know what they want and have no problem going after it. Alpha moved to Denver from Florida after ending her engagement. When she is hired to be the event planner for a Westmoreland party, she is immediately attracted to Riley, but has no plans to risk her heart again. Riley has kept his emotions out of his affairs for a long time, after seeing what the loss of love did to one of his brothers. He has what he calls "Riley's Rules". He will date a woman for no more than six weeks, at which point the relationship ends. If she starts expecting more, he ends it immediately. When he meets Alpha the attraction is immediate and intense. He makes it plain that he is interested in a no-strings affair for no more than six weeks. She accepts and the passion between them is incredible. Riley finds himself doing things with Alpha he had never done with another woman - just hanging out, going for walks, just talking. He even takes her to a couple events with his family which he has never done before. This makes him nervous but he can't stop wanting more from her. The Westmorelands have a great love of family which is why he doesn't understand why she always changes the subject when her family comes up. I love the way he finally admitted to himself that he had fallen in love with her, and how he knew he needed to show her that he didn't want to end things at six weeks. I loved the way that his affair turned into a really sweet courtship. Alpha decided to accept Riley's offer of an affair. She was very willing to give in to her attraction to him and enjoy what time they could have together. The passion was off the charts and she found that she wished it could go on. But she had agreed to the time limit. She found as the days went on that she liked spending time with Riley out of the bedroom too. The only thing she kept back was talking about her family, especially her sister, since that is what had caused problems before. She wasn't sure that she could trust that it wouldn't happen again. I liked the way that she finally told him everything and what his reaction was. The secret was certainly not something that I had expected and it was really neat to see how Alpha stood up for her sister. I'm looking forward to seeing who falls next.