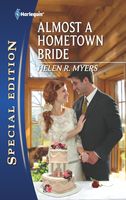 Recipe for Romance:
Take one mystery man...
Add the best baker in town...
And a dash of red-hot chemistry!

Cain Paxton's return to town caused quite a stir. And no wonder -- his brutal temper had landed him in jail! Merritt Miller vowed to stay far away from the loner and his bad reputation...even though she couldn't ignore the sparks hot enough to melt even a Montana snow.


But just as Cain had shuttered his heart when he was punished for a crime he didn't commit, Merritt's emotions were imprisoned by her secret past. The straight-as-an-arrow gal and the chip-on-his-shoulder rebel made an improbable couple -- with an intense attraction! Would Cupid bring them together just in time for Valentine's Day?
I really liked this book. Merritt was quiet and hardworking and really sweet. She loved her work at the diner, waitressing and doing the baking. When Cain came back to town, she tried to stay away, but soon came to realize that he was not the bad man people said he was. Cain did his best to keep a low profile, but couldn't see letting Merritt do all that walking if he could help. He also started helping out at her house. He worked very hard to turn his life around. Thanks to Merritt, he also was able to reconcile with his grandfather. I really liked the way the story concluded.