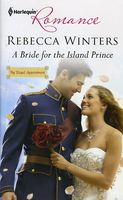 Series: By Royal Appointment
Prince Alexius of Hellenica will do anything to help his four-year-old daughter learn to speak -- which is why the intensely reserved and private royal finds himself opening up to bubbly children's speech therapist Dottie Richards. Dottie is a breath of fresh air in the palace, and motherless Zoe blossoms in her care -- as does the reluctant attraction Alex feels toward his new employee!

Behind her cheerful smiles Dottie guards her own heart fiercely, but it's never been in so much danger as from this cool prince with his dark, molten eyes....
Good book. I loved Dottie and how wonderful she was with Zoe. She obviously was very good at her job, but was also a very caring person. In her quest to help Zoe, she also was able to help Alex balance his work and his private life. She tried to guard her heart, since she knew there was no future in a relationship with Alex. Alex was determined to do anything necessary to help Zoe, and was completely willing to do anything Dottie needed him to do. He also found himself coming to care for Dottie, and didn't know how he was going to be able to reconcile his two lives. While the ending was not a surprise, the way it happened was and was perfect for the book.