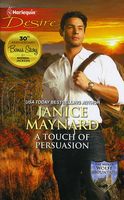 Series: Men of Wolff Mountain (Book 2)
Six years ago, Olivia Delgado was abandoned by the man she loved—a man who had never existed. Billionaire adventurer Kieran Wolff had used an alias, made love to her, then disappeared. Now he's returned, insisting on not only meeting her daughter—his daughter—but on seducing Olivia back into his bed! Passion still simmers between them, threatening her good sense. Can he be trusted this time, or is Kieran still a Wolff in sheep's clothing?
Very good book. Kieran really irritated me at first. He didn't seem to understand that by lying to her about his name when they first knew each other, he had made it impossible for her to find him when she found out she was pregnant. And when she finally did find him, she felt she couldn't trust him. All he could see was that he hadn't been told. For her part, Olivia still didn't feel that she could trust him to actually be around to act as a father. The passion was still there, but she didn't see anything permanent coming from it. Over the weeks they were together, with Kieran getting to know his daughter, he found himself changing. It took quite a lot for him to realize that he could stop running and build a life back on Wolff Mountain.