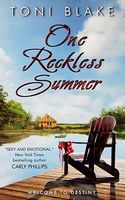 Series: Destiny (Book 1)
It's tough to play it cool on a sultry summer night . . .

The perfect daughter. The perfect prom queen. The perfect wife. Jenny Tolliver's been the good girl all her life, and it's gotten her nowhere. Now that her marriage has been busted up by her cheating ex, she's decided it's time to regroup and rediscover herself. This summer she's headed back to her hometown of Destiny, Ohio, to the very lakeshore cottage where she grew up, to figure out what life holds in store for her next.


She never dreamed the answer would be Mick Brody, Destiny's #1 hellraiser. He comes from the wrong side of the tracks (or in his case, the lake), and he's landed in hot water more times than he can count. He's exactly the kind of guy Jenny's always kept her distance from . . . but soon the good girl and the bad boy are caught in a raw heat that's out of control. Too bad Mick's got a secret that threatens to tear them apart and ruin Jenny's perfectly, passionately reckless summer . . .
Good book. I really liked both Mick and Jenny. Jenny had come back to Destiny, and wasn't sure what she wanted to do. Her ex had done a number on her self-confidence, and she had slid back into that good girl role from when she was growing up. That lasted until she ran into Mick again, and the heat between them burned bright and hard. Because he was hiding out, he only came to visit Jenny after dark. At first, it was all about the sex, but soon there was more between them. Jenny started to feel more like the person she was meant to be, thanks to Mick's influence. And Mick was better able to deal with his brother's illness when he had Jenny to go to. I really liked the way they were together. I loved the conclusion to the story. I was also happy to see that Jenny's dad had his eyes opened.