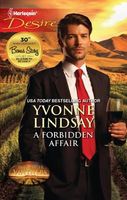 Series: Master Vintners (Book 2)
Nate Jackson finds it almost too easy to seduce his enemy's daughter. And after their white-hot weekend, he issues an ultimatum—Nicole Wilson will work for him or her family will learn of their affair.
Nicole has little choice. Yet even as she bows to her lover's demands, she sees the hope for redemption in Nate's eyes. Can his reasons be justified? And does she dare trust a man planning to destroy all she holds dear?
This was a good book, better than I thought it would be at the beginning. When Nicole stormed out of her father's house, all she wanted to do was get away. After working for years to do the best she could do for her father's company, he had turned it all over to her estranged brother, without even telling her what he was going to do. So she met up with friends at a club and started dancing, where she came to Nate's attention. He was immediately drawn to her, as she was to him. When he realized who she was, he thought he had found a perfect mode of revenge. She couldn't believe what he was doing, but felt she had no choice. While working for him though, she found that she was treated better and more respected than she had been by her father. I really liked the way that Nate gave her the opportunities that he did, and let her run with them. I also liked the way that Nicole got under his skin and made him think about what he was doing. I loved seeing how things came together at the end, and how Nate finally came to see what he had almost lost.