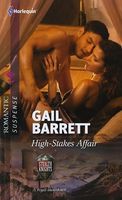 Series: Stealth Knights (Book 2)
"You're stuck with me, princess."
With her country on the brink of unrest, loyal Princess Paloma Vergara escapes the security of the palace walls to protect her family. To eliminate the threat of blackmail against her brother, the heir to the Vergara legacy, she must enlist the help of an ex-con with a very special set of skills.
Dante Quevedo has his own dark agenda: avenge his sister's death. Teaming up with the royal beauty makes revenge all the easier to claim. Until they stumble upon a terrorist plot that leaves them with no one but each other to trust…
Very good book. Paloma and Dante started out pretty rocky because of his quest for revenge and hatred for the royal family. They also noticed a physical attraction that they did their best to ignore. When they ended up on the run together, they had to learn to trust each other. Dante slowly began to realize that Paloma was not like her father and brother and really cared about the people of her country. He also found he had a powerful urge to protect her from what he believed was happening. Paloma's intent was to find the information needed to stop her brother from being blackmailed. As their search continued, the terrorist plot they discovered was one that could destroy their country. I really liked the way that they were able to work together. I also found Paloma's selflessness at the end was wonderful.