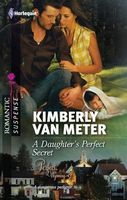 Series: Perfect Wyoming (Book 3)
There's something rotten in Wyoming.
With its beautiful, blissful residents and close-knit community, Cold Plains seems the ideal place to settle down. But Dr. Rafe Black senses the crack in its veneer the moment he arrives. On a desperate mission, he can't allow anything to stand in his way. Including the captivating woman who could be harboring the town's most horrific secret…
Reeling from the revelation that she isn't who she thought she was, Darcy Craven isn't leaving until she uncovers the truth about her past. She knows she shouldn't trust the handsome healer with the sad smile. But every step brings Rafe and Darcy closer together—and closer to a truth that could cost them their lives.
Good book. I liked Rafe a lot. He was a good doctor, providing care to the residents that wasn't through their clinic. He was also trying to find his son, and helping the FBI try to find out what Samuel Grayson is up to. When Darcy came to town, he hired her to work as his receptionist. Darcy had come to town after finding out she was adopted, wanting to get a look at the man who was her father, and who her mother was desperate to keep her away from. It wasn't long until they gave in to their attraction. They also found themselves working together to find out what was going on in the hidden infirmary, and putting pressure on the local cops to find Rafe's son. I enjoyed the story, and it had a good conclusion, though no resolution on Darcy and her father as yet. I'm looking forward to the rest of the series.