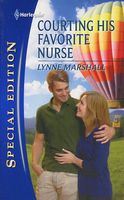 Series: Whispering Oaks (Book 1)
Anne Grady knew better than anyone that love was complicated. When she'd left her hometown, she thought she was leaving her past heartbreak behind for good, as well. But practically the moment she returned to care for her injured parents, she stumbled headlong into their confidant—her first love, Jack Lightfoot.
Jack had been unable to deny his feelings for Annie when he was a teenager dating her best friend, and he certainly couldn't muffle the spark twisting between them now—even if memories of the past kept threatening to push them apart. This time Jack wasn't going to let history repeat itself—he was going to show Annie that the two of them were meant to be much more than best friends!
Pretty good book. When Anne came back to town to care for her parents she ended up seeing Jack again - frequently. She realized that, even though she'd been away for a long time, she still cared for him. Jack was thrilled that she was back, and was determined to show her that they belonged together. Both were fighting the ghosts of their pasts, and it was looking like those were going to be very hard to overcome. I liked Jack -- he seemed to be a pretty romantic guy, with his balloon rides and boat trips. He did seem to have a hard time actually getting around to apologizing to Anne. Meanwhile, Anne seemed to be hanging on to the past harder than she should have. I hope her brother and sister get stories too.