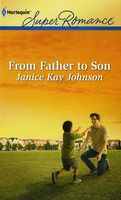 Series: A Brother's Word (Book 2)
Is an independent cop the best family man?
Niall MacLachlan's one priority is the law. He fought his way from the wrong side of the tracks to earn his badge and won't jeopardize it for anything. After all, trusting his family nearly cost him everything as a kid. So, no. This loner has no desire for a wife and children to call his own.
So why is his entirely too attractive landlady, Rowan Staley, slipping past all his defenses? She and her young family—complete with noisy dog—are everything Niall thinks he doesn't want. But he can't keep his distance when she turns to him for protection from a neighborhood threat. And in the end, letting her go might be impossible.
An excellent book. I really liked Niall when I met him in Duncan's book. I could tell he was a good man, but like his brother, didn't know how to love or be loved. I loved the way he was with Rowan's two kids -- he was great at taking care of them, playing with them, protecting them. He just didn't know how to deal with his feelings for them and for Rowan. Every time he would get closer, he would get scared and back off. Rowan's marriage had not been very good. Physical intimacy with her husband was not all that it should have been, and she didn't know if what she read about in books was even possible. I loved the way Niall and Duncan got closer, and the way Duncan helped him understand his feelings. I am really looking forward to the third book and seeing how that one turns out.