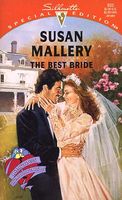 Series: Hometown Heartbreakers (Book 1)
With his sexy Stetson and X-rated grin, was Sheriff Travis Haynes Glenwood's leading lady-killer or Elizabeth Abbot and her daughter's knight in shining armor? Finally pulling her life back together, Elizabeth couldn't afford more heartbreak. Still, Travis was awfully tempting...

With every fragment of her betrayed heart, Elizabeth longed to trust the legendary lawman - enough to become his bride and give her child a daddy. But would her shattering past forever hold her hostage...even from the love that could make her whole?
An older book from Susan Mallery, and a fantastic read. Elizabeth was trying to start over from a mistake that still held her in its grip. The last thing she wanted to do was trust another charming, good looking guy. But Travis seemed like a really nice man, who came to her rescue and was wonderful with her daughter. Travis loved women, but felt that he was unable to have a lasting commitment with anyone. His family was notorious for failed relationships. He really wanted to have a wife and family, but didn't believe that it was possible for him. Elizabeth nearly lost him because of her inability to trust her own judgment, and Travis nearly lost her because he forgot that it was possible to choose to be happy.