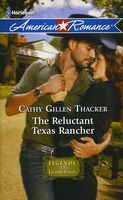 Series: Legends of Laramie County (Book 1)
Three generations of Cartwright women have run the Four Winds cattle ranch, and Liz Cartwright is being pressed to keep the tradition going. But Liz wants to continue her legal practice in town, not spend her time working the land. She needs a man to do the heavy lifting!
Travis Anderson is also a big-city lawyer, claiming to be back in Laramie County with a desire to reconnect with his ranching roots. Only Liz isn't buying it. When it turns out her old flame is being sued for malpractice, Liz agrees to assist him in exchange for help around Four Winds. Now all she has to do is ignore the incredible chemistry she's always shared with the sexy cowboy.
The trouble is, if Liz helps Travis win his lawsuit, he'll leave the ranch—just as she's learning the benefits of having him around. What's a poor cowgirl to do?
Good book. Liz likes being a lawyer. She likes the ranch also, she just doesn't want to run the place. Her family wants her to keep up the tradition and do that. When Travis comes, they work out a deal where he helps on the ranch while she works on his defense. They still have an intense chemistry, and can't help but give in to it. But Liz is well aware that when he is able to go back to law, he could easily leave the ranch, and her, behind. She'd been through that once before with him, and didn't want to do it again. So she tried to protect herself and keep him at an emotional distance. Travis knew he didn't want to go back to his old way of doing things - he wanted a home and family and a chance to do the ranching he also loves. All he has to do is convince Liz to take a chance on them.