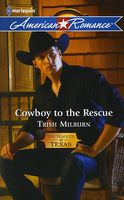 Series: Teagues of Texas (Book 2)
Ryan Teague was always a bit of a loner. Before his traumatic tour in Iraq, keeping to himself was a choice; now, well, it's a necessity. Ryan feels he's too damaged, too scarred to be around the people he loves most. And a relationship? Out of the question. What woman wants a broken man?

All that changes when Ryan meets the new ranch chef. Gorgeous, funny and a helluva cook, Brooke Vincent charms everyone at Vista Hills, especially Ryan. He recognizes something else in Brooke, too -- behind that warm, easygoing demeanor, Brooke is hiding some scars of her own. Suddenly, all Ryan can think about is making sure no one hurts her again.


Brooke and Ryan help each other begin to heal. But just as their trust grows into something more, Brooke's past threatens to ruin it all.…
Excellent story. Brooke's arrival at the ranch was perfect for her. She loved to cook, and the place was isolated enough for her to feel safer than she had in a long time. I loved the way she fit right in and developed good relationships with all the Teagues. She also immediately drew the attention of Ryan Teague. Ryan had become a loner, not spending much time around people because of his feeling of guilt from his time in Iraq. As the two spend time together, they find that their emotional wounds are healing. I loved the way that Brooke was able to get Ryan to open up and talk, just by being there and able to listen. The confrontation with her ex-boyfriend was good, and the conclusion of the story was fun.