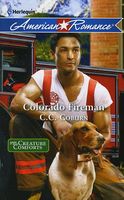 Series: Creature Comforts, O'Malley Men (Book 4)
Colorado firefighter Adam O'Malley risks his own life to rescue Carly Spencer's young son and a dog named Molly from a burning building…and assumes that's the last he'll see of them. But Spruce Lake is a small place, and Carly and her four children are new to town. Before he knows it, Adam's mother has invited Carly, her children and the dog to stay at the O'Malley ranch!

As the widow of a firefighter, making a good life for her kids is Carly's number one priority. Meeting -- and falling for -- another firefighter is not. Adam, meanwhile, has been avoiding relationships because of a painful secret he's kept from everyone, including his brothers. But the more time he spends with Carly, the more he wants to move past it.
I really liked this book. Adam was a great hero. He started out as the guy who avoided getting emotionally close to anyone, even his family, because of an issue in his past. When he rescued Carly's son and the dog, something about her caused him to start to feel again. Because of the fire, Carly ended up living on the ranch belonging to Adam's family, so he had constant exposure to them all. Thanks to their help, she was able to begin to get her life back on track after the fire. She also found herself becoming part of the family, and growing even closer to Adam. When trouble follows her to Spruce Lake, Adam's love bursts forth and he and his family come to the rescue.