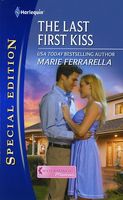 Series: Matchmaking Mamas (Book 7)
It's been eighteen years since Kara Calhoun laid eyes on David Scarlatti, the one man who'd always gotten under her skin—the wrong way! That doesn't stop a pair of matchmaking moms from believing their son and daughter are made for each other. So Kara cooks up her own scheme to prove them wrong. Even if it means temporarily dating the super-geek-turned-dedicated-doctor…who's much too good-looking for this video game tester's good!
The bubbly blonde dynamo is the skinny tomboy who used to drive Dave crazy? Impossible! And agreeing to her plan is even crazier…especially when Kara awakens irresistible desire in the reserved physician. With their pretend romance flaring into something neither expected, Dave devises a backup plan: convincing Kara that that incredible first kiss won't be their last….
Good book. I loved the interaction between Kara and Dave. They really balanced each other well. Kara is impulsive, creative and mouthy. Dave is reserved and logical. Kara had picked on him constantly when they were kids. But when their moms cooked up a matchmaking scheme, Kara talked Dave into a fake relationship to stop them. What they didn't count on was their attraction to each other. They also found that they actually liked being with each other. I loved the way they took care of each other, even as they snarked at each other. Dave realized that Kara gave him the fun that he needed after hard days at the hospital or clinic. And Kara found that Dave gave her the steadiness that she had been looking for.