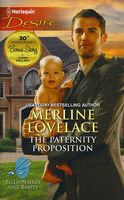 Series: Billionaires and Babies
"Are You My Baby's Mother?"
Billionaire Alex Dalton has had more than his share of women. But now he needs just one—Julie Bartlett, the fiery redhead who'd once given him the hottest night of his life. Was she the mother who had left a baby on the Dalton doorstep? When a paternity test proves inconclusive, he needs Julie's DNA to determine if it is Alex or his twin brother who's now a father. But when Julie refuses to cooperate, Alex vows to tempt her into giving him everything he wants.
Good book. I really liked Julie. She was independent and very good at what she did. She also didn't appreciate Alex accusing her of abandoning a baby. She also realized she was still very attracted to him. Alex basically blackmailed Julie into going to Oklahoma City for the week, not just for the DNA issue, but because he wanted her back in his bed. As he got to know her, he realized that she was a woman he could spend a lifetime with. He liked seeing her in her element, when talking about the business and mechanics of her flying. Her flying abilities scared him, because she was so good at what she did. Julie found herself falling for Alex, especially when she saw him with baby Molly, but felt really out of place in his world. She also found that he tended to be pretty high-handed, which she did not appreciate. It caused them big problems toward the end of the book, and required something of an attitude adjustment on his part. I hope Blake gets a story.