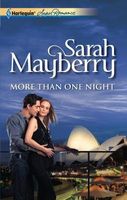 From bed to baby to…bliss?
A chance encounter. A steamy night together. That's all Rhys Walker signs on for when Charlotte "Charlie" Long sashays across his path. Sure, maybe he catches a glimpse of forever in her eyes. But the brush-off note the gorgeous brunette leaves the next morning says it all, doesn't it? Time to move on.
Rhys never expects that moving on actually means reconnecting with Charlie. Or that her big news changes everything. Becoming a father now, under these circumstances, never factored into his plans. Yet he's not as upset as he thought. Because now he has the opportunity to explore that glimpse of forever…and turn it into reality.
Good book. I really liked both Rhys and Charlie. I felt so bad for Charlie through most of the book. Her self-esteem was so low when it came to her personal life that she just couldn't see that someone like Rhys could truly be interested in her. When she found that she was pregnant, she knew she had to tell him. Once Rhys got over his initial shock and anger, he knew that he and Charlie had to learn to deal together for the sake of the baby. As they spent time together, getting to know each other, they found they had a lot in common. Rhys realized pretty quickly that Charlie had become an important part of his life. His biggest problem was that she kept pushing him away. It took awhile for him to realize why, and that he would have to have great patience to win her over. Meanwhile, Charlie couldn't believe that someone like Rhys really wanted to be with her. She kept waiting for everything to come to an end. It took a long time and some heart to heart talking from her friend Gina for her to understand that she deserved to be loved too.