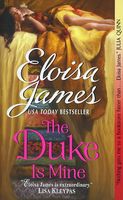 Series: Happily Ever Afters (Book 3)
Destiny will be decided between the sheets in this all-new tale of "The Princess and the Pea."

For Olivia Lytton, betrothal to the son of the Duke of Canterwick -- hardly a Prince Charming -- feels more like a curse than a happily-ever-after. At least his noble status will help her sister, Georgiana, secure an engagement with the brooding, handsome Tarquin, Duke of Sconce, a perfect match for her in every way . . . every way but one. Tarquin has fallen in love with Olivia.


Quin never puts passion before reason. And reason says that Georgiana is his ideal bride. But the sensual, fiery, strong-willed Olivia ignites an unknown longing in him -- a desire they are both powerless to resist. When a scandalous affair begins, they risk losing everything -- Olivia's engagement, her sister's friendship, and their own fragile love. Only one thing can save them -- and it awaits in the bedroom, where a magnificent mattress holds life-changing answers to the greatest romantic riddle of all.
Good book. Olivia's parents have brought her and her sister up with one goal - marriages to dukes. Olivia has been betrothed to Rupert since she was a child. He is a nice young man, younger than she is, and not the brightest of people. But she is willing to go through with it. She and her sister are invited to visit the home of the Duke of Sconce and his mother, with a chance that Georgiana would secure the interest of the Duke. The difference between the two girls is amazing. Georgiana is tall, thin and the "ideal" duchess. Olivia is short, slightly plump, and much more earthy. She likes to laugh, tell jokes and argue. Quin's first marriage was not happy, and he swore he would not allow his emotions to rule him again. But Georgiana does nothing for him, and Olivia appeals to him like no one ever has. I really liked Olivia and the way she was herself and stood up to Quin's mother. I also was very glad of the way she helped her sister go after what she wanted.