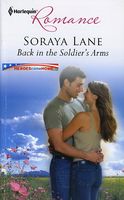 Series: Heroes Come Home (Book 3)
To the outside world, Daniel and Penny Cartwright have it all—a lovely home, a beautiful daughter, successful military careers and a rock-solid marriage. But when Daniel makes a reckless mistake, the foundations of their marriage are shaken. Now he's got to act fast to keep hold of his precious wife.
Daniel launches a campaign to win Penny back: he has just a week to do whatever it takes to make her fall in love with him all over again.
This was a different kind of story. I really wasn't sure at first if I was going to like it. I was firmly on Penny's side -- I don't know that I would forgive him either. But the more I read of the book, the more I came to believe that their marriage could be saved. They obviously did love each other and their daughter. I could see that Daniel deeply regretted what he had done and would do anything to save them. I could also see and understand Penny's reluctance to trust him. I liked the way they finally began to really communicate, as that was the only way they would be able to move forward.