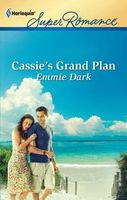 Cassie Hartman knows what she needs to do to get her life under control. First, she'll get herself promoted. Then she'll update her appearance. Steps three and four—marriage and family—well, those will have to wait.
Then Ronan McGuire shows up. The too-sexy, too-polished business consultant has the power to derail Cassie's plans before she's even really started. If he doesn't approve her promotion, she'll be back to square one—and that's not an option. Cassie needs to keep her focus on that first step, no matter how much Ronan tempts her to skip ahead to the third and fourth ones….
Excellent book. I really liked Cassie and the fact that she had a plan for her life. She knew what she wanted and how to go after it. Her biggest problem was most likely that she was a workaholic. Ronan's arrival has created some trouble for her. She knows he's there to evaluate her work - she thinks for her promotion. He knows why he's there, and that isn't it. From the beginning they are attracted to each other, but each knows it's a bad idea to act on it. Ronan has been unhappy with his job for awhile, but this last assignment may be the straw that breaks him. Cassie has used her job and her plan to protect herself from pain and loss, but this time it may not be enough. I really liked the characters in this book - except I think Cassie's boss was a sniveling coward for the way he acted at the end. I'm looking forward to more books from this author.