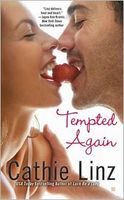 Series: Librarian (Book 3)
She'd been tempted before and this wickedly hot sheriff knows her weakness....

Marissa Bennett needs to start over, so she returns to her hometown of Hopeful, Ohio, and a new job at the library. After a painful divorce. she craves peace of mind and stability. Instead, the first thing she does is accidentally crash the Founders' Day Parade. To make matters worse, she has to deal with her menopausal mom, a sarcastic sister and a loony library board.


The last thing Marissa needs is a new man in her life. Enter sexy lawman Connor Doyle-the bad boy who took her virginity back in high school. She knows she should turn the pages on her past and get her life back on track, but Connor is irresistible. Has she come all the way home just to get her heart broken again?
Very good book. Marissa had come back to Hopeful, looking for a new start. She ended up seeing Connor right away, bringing back some unpleasant memories. Connor didn't recognize her at first, but when he did he realized that he had been a butt-head and needed to apologize. When they found out they needed to combine their programs for at-risk teens, neither one was happy that they had to work together. Thanks to his previous undercover work in Chicago, Connor tended to be the hellfire and brimstone kind of guy, where Marissa was into softer guidance. I really liked the teens and the things they did. I also loved the way they were able to help Connor out at the end. The biggest thing Connor and Marissa had to do was let go of their history and move on. I also enjoyed Marissa's parents, and her solution to their arguing at the end of the book.