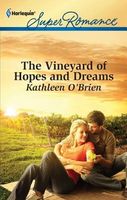 Series: Together Again
As a reckless teenager, Colby Malone made a catastrophic mistake. One he's regretted every day since. So when Hayley Watson—the woman he's never forgotten—returns to sell her family's vineyard, he seizes the opportunity to make amends.
But she's not making this easy for him. Hayley wants nothing to do with him or Sonoma, California. And the intense attraction between them? Yeah, she's ready to ignore that, too. Colby must convince her to take a chance on him…on them. And what better place to do that than the land that sparked all their dreams of a future together?
Very good book. Colby was very glad to see Hayley return to Sonoma. He had tried to find her once before, but was unable to. He knew he had been in the wrong, and he really wanted to have a chance to make things right between them. Hayley came back intent on selling the vineyard and going back to Florida. She had no intention of opening herself up to the possibility of more pain. Exposure to Colby over the time it took to sell the vineyard to his family made her realize that she had never stopped loving him. I really liked the way he was determined not to give up on them this time. I enjoyed seeing the members of the Malone family again. I still love Grandma -- she really knows how to keep everyone in line.