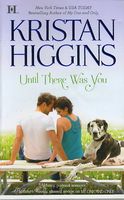 She's having serious prom-night deja vu...

Posey Osterhagen can't complain. She owns a successful architectural salvaging company, she's surrounded by her lovable, if off-center, family and she has a boyfriend -- sort of. Still, something's missing. Something tall, brooding and criminally good-looking... something like Liam Murphy.


When Posey was sixteen, the bad boy of Bellsford, New Hampshire, broke her heart. But now he's back, sending Posey's traitorous schoolgirl heart into overdrive once again. She should be giving him a wide berth, but it seems fate has other ideas....
Overall, a good book. I admit it took me awhile to warm up to Liam. He was so nasty to Posey when he first came back to town that it was hard to think he was going to win her in the end. He was also so over-the-top overprotective of his daughter I wanted to smack him. I really liked Posey. She was a genuinely nice person who put up with a lot from her family. I liked the way that she was so comfortable with her career choice, and the way she loved the items she salvaged. The way that Liam was confused by his developing feelings for Posey was perfect - he deserved to wonder what was going on. I thought it was pretty good that he had a daughter he had to protect from guys who were just like he was when he was their age. I really enjoyed the secondary characters - Posey's brother and his partner, the parents and friends, and cousin Gretchen were all terrific. Posey also had a great influence on Liam and his OCD safety issues. I absolutely loved the conclusion of the story.