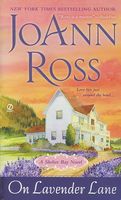 Series: Shelter Bay (Book 3)
Sometimes the second time is the charm. . .

After seeing enough of war, former Navy SEAL Lucas Chaffee is settling back into civilian life when he accepts a job refurbishing a farmhouse for an old friend, who plans to turn it into a culinary school.


Celebrity TV chef Madeline Durand was badly shaken when her husband's illicit video went viral, so she jumps at the chance to reevaluate her life in Shelter Bay while helping her grandmother turn the family farm into a new business. Little does she know that the man who broke her heart year ago is already on the job.


Having Maddy leave Shelter Bay once, Lucas isn't about to let her get away this time. But rekindling their romance won't be easy, as she still hasn't forgiven him for a fateful night ten years ago. But Lucas is a man on a mission, and with the help of some Shelter Bay matchmakers, he plans to come up with a very special recipe of passion, patience, and perseverance to win her over. . .
Another fantastic visit to Shelter Bay. Lucas is a terrific character. He is, of course, an alpha male, being a former Navy SEAL. But he is also a basically nice, sensitive guy, though that came through learning some things the hard way. He knows he isn't going to have an easy time of getting back into Maddy's good graces. She has returned to Shelter Bay to recover from her marriage and try to get her life back on track. She has spent the last several years repressing her goals and desires to support her husband's. She doesn't start out planning to stay, but as she and Lucas settle their past, she is ready to look at the future. I loved the way they started talking, trying to regain their friendship first, and discovering that they have even more in common now. They also have the maturity to work through any remaining issues. I loved the way they developed the restaurant plans. I also enjoyed seeing the old characters, and meeting new ones, to see where future romances might come to be. There were several scenes I loved, including the beach scene with the champagne and the morning after, and the cooking lesson at the women's shelter.