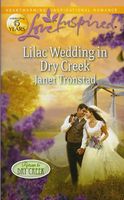 Series: Dry Creek (Book 22)
When she ran away from the juvenile home she was raised in, Cat Barker left more than an unstable childhood behind. She also left her first love, Jake Stone. The two had more in common than anyone understood, but neither knew how to trust. Now Cat needs help, and there's only one person she can turn to - Jake, her daughter's secret father. Though Cat can see the tender man she once cared for, she still fears love and marriage. Until a daunting challenge renews her faith - and teaches them all a lesson about trust.
Good book. Cat came looking for Jake because she needed him to look after their daughter if something happened to her. Jake was surprised to see her and stunned at the news he was a father. He was wary of marriage because of his father's abuse - he was afraid he'd be just like him. But he wanted to do the right thing and take care of Cat and Lara. He could also tell that Cat was holding something back from him. It took almost losing her for Jake to realize he really needed them both in his life.