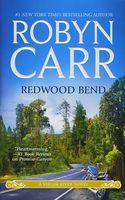 Series: Virgin River (Book 18)
Katie Malone and her twin boys' trip along the beautiful mountain roads to Virgin River is stopped short by a tire as flat as her failed romance. To make matters worse, the rain has set in, the boys are hungry and Katie is having trouble putting on a spare. As she stands at the side of the road pondering her next move, she hears a distinct rumble. The sight of the sexy, leather-clad bikers who pull up beside her puts her imagination into overdrive.

Dylan Childress and his buddies are on the motorcycle trip of a lifetime. But the sight of a woman in distress stops them in their tracks. And while the guys are checking out her car, she and Dylan are checking out one another.


In one brief moment, the world tilts on its axis and any previous plans Katie and Dylan might have had for their futures are left at the side of the road.
I loved this book. When Dylan and his friends stopped to help Katie, she wasn't sure what to make of them. When she saw them again later in Virgin River, she got a chance to get a better look at Dylan. They were attracted to each other, but Katie was the mother of twins and had no intention of getting involved with any man. Dylan came from a very dysfunctional family, and felt that he was a bad bet for a relationship anyway. But Dylan couldn't stay away, and found himself drawn further and further into Katie's life -- and liking it. Dylan was trying to find a way to save his flying business in Montana, and tried his best to make sure Katie knew he would not be staying. Katie, meanwhile, was enjoying her time with Dylan and thought she could keep it light. She found that she and her sons were coming to care for Dylan more than was probably wise. I loved Dylan. In spite of his feelings about himself, he was a really nice guy and terrific with the boys. I loved seeing Conner and Leslie, and the interaction between Conner and Dylan was great. There were some serious issues that Dylan and Katie had to work out, but they found that love helped them do it.