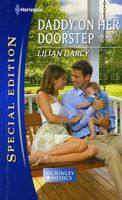 Series: McKinley Medics (Book 1)
Obstetrician Andrew McKinley was intrigued by his new single tenant and neighbor, who looked about ready to pop—and also about ready to jump down the throat of anyone who even hinted that she might need some help. So he knew he should not get involved. But with Claudia showing every sign of labor, what could he do but come to her aid?
Manhattan accountant Claudia Nelson was a self-confessed control freak. Research, plans, schedules—that was her approach to everything, including having her baby. Suddenly nothing was happening as she'd expected. Because after going to so much trouble to go it alone, how could the man on her doorstep turn out to be her knight in shining scrubs?
Really good book. I loved Andy. He was a terrific doctor, able to keep his patients calm and relate well to them, while maintaining a good doctor-patient relationship. I loved how laid back he was. When Claudia moved into the other side of his house, he tried very hard not to get over-involved in her life - a problem of his, according to his uptight father. But there was something about her that seemed to cry out for his involvement. Claudia had decided to do the whole single parent thing by herself, depending on no one. She was very into planning and schedules. What she didn't realize is that babies don't follow plans. And when she went into labor early, she didn't know what to do. Fortunately Andy was there to lend a hand. They spent most of the book bouncing back and forth between involved and pulling back. Seeing their internal conversations with themselves was pretty funny. I liked the way they finally worked things out. I'm looking forward to the other two books.