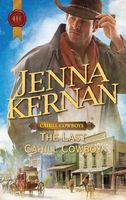 Series: Cahill Cowboys (Book 5)
Bounty hunter Chance Cahill blows into town like tumbleweed, a rootless drifter with danger written all over him. For this man doesn't care whether he lives or dies. It's what makes him so fearless -- and so deadly.

Ellie Jenkins, plain as brown paper, is determined to marry for love. It's only when she comes face-to-face with childhood friend Chance that she realizes what she's been waiting for.


But then Ellie sees the empty look behind his eyes, and she knows that to win this cowboy's heart will take a risk so big it may destroy them both....
Great conclusion to the series. Chance is the last of the siblings to come back to help find their parents' murderer. When he left, his best skill was his shooting, so he became a bounty hunter. He felt that his parents' deaths were his fault, and saw no hope for a good life for himself. When he returned, one of the first people he saw was Ellie, his sister's best friend. He was stunned by the changes he saw, and the attraction he felt. He also knew that she was far too good for him. Ellie was glad that Chance had returned, but worried about the changes she saw in him. She could see that he didn't care about his own life. She also realized that she had been in love with him for most of her life. She had been sheltered for all her life, and her domineering mother couldn't see Ellie's true nature. I really enjoyed seeing Ellie as she began to find her backbone and go after what she wanted. I liked seeing the interaction among Chance and his siblings, and his confusion over their new relationships. The final scenes of the book were great, with the bad guy finally getting what was coming to him. And I loved the epilogue, with Bowie and Merritt's wedding!