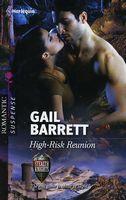 Series: Stealth Knights (Book 1)
Redemption is but a step away for reformed jewel thief Rafael Navarro. The price? One last, dangerous heist. But when things turn deadly and an innocent is accused, his only way out is to trust the woman who once betrayed him.

Eons ago, heiress Gabrielle Ferrer had broken Rafael's heart to save his life. Now that her covert quest for revenge against a ruthless criminal has taken a lethal turn, they are forced to work together to clear their names of murder. Old attractions and new desires flare -- yet the secrets of their dark pasts may lead to a fatal future....
Good book. There was good suspense in the search for the missing information and the need to remain free of the bad guys. I liked both characters. Rafael had good instincts and the training to do what needed to be done. Gabrielle had the motivation of revenge to be focused on the goal, but was a bit impetuous, which got her into trouble a few times. Their attraction was still there, even though Rafael felt betrayed by Gabi. Meanwhile, Gabi was still trying to make sure her actions didn't put him in danger. When the story of why she broke up with him finally came out, Rafael realized it hadn't been all her fault. I'm looking forward to the rest of the series.