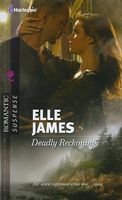 Series: Devil's Shroud (Book 1)
"You win for now, but it isn't over."
Trouble has followed pregnant artist Kayla Davies to a picturesque Oregon town where she hopes to paint away memories of a brutal attack. Instead she finds herself again gripped by fear when a woman's murder and an eerily familiar stalker coincide with her arrival. Someone is watching her…and disappearing into the dreaded fog called The Devil's Shroud.
Shaken, Kayla finds comfort in the arms of Gabe McGregor, the hard-bodied town sheriff and single dad. Though he and Kayla share a powerful attraction, neither wants anything beyond an earthshaking fling. Too many lies and secrets have come between them—until another vicious attack on Kayla changes everything….
Very good book. The suspense in this one kept me turning the pages late into the night, until I finished it. Kayla came to Cape Churn to get away from the memories of the attack and try to get her desire to paint back. When the threats started up again, she turned to Gabe. Gabe was determined to find out who was doing this to Kayla. He was powerfully attracted to her, but didn't want a relationship to distract him from his search for the killer. He was also trying to cope with being a single dad. I loved Gabe's patience with his son, as they got to know each other. I also liked the way that Dakota stepped in to help protect Kayla.