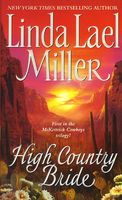 Series: McKettrick Cowboys (Book 1)
One ranch. Three sons. Only one will inherit...and on one condition.

Tired of waiting for his sons to settle down, Arizona-territory rancher Angus McKettrick announces a competition: the first son to marry and produce a grandchild will inherit Triple M ranch. Now, three distinctly different, equally determined cowboys are searching high and low for brides.


If Emmeline Harding knows one thing, it's that she can't hold her liquor. And though she's not sure how she came to wake up next to a stack of gold coins in a brothel, she fears the worst. Fleeing town as a mail-order bride, she wonders: how will she ever confess her past to her handsome new husband?


Freedom-loving Rafe McKettrick is a man of strong beliefs and stronger passions and he'll do anything to win the Triple M -- even marry a stranger. To his surprise, Emmeline's charms beguile him even as the secrets he senses she's hiding ignite jealousy and suspicion. But when a visitor from the past enters the high country, the newlyweds have no choice but to give up on a marriage in name only and seek a union that satisfies them body and soul.
Excellent book. This is the first in the McKettrick family books. I love this family and all their passions and drama. Rafe had no intention of settling down anytime soon, until his father laid down his ultimatum. So he sent off for a mail order bride. Emmeline had fled Kansas City, certain her reputation was in tatters. When she arrived in Indian Rock, expecting to be met by her new husband, she found him brawling in a saloon. One of her brothers-in-law took her out to the ranch, and Rafe showed up shortly after. He could tell she had secrets, but didn't press her to tell them. He also discovered that she wasn't one to be ordered around. As they spent time together, they first discovered passion, and then stronger feelings began to develop. When the previously unknown half-brother appeared, tensions increased. And when Emmeline finally told Rafe her secret, the explosion tore them apart. It took nearly losing her for Rafe to realize his love. Great series, and I loved all the side stories and undercurrents.